The Axe Women Loggers of Maine are proud to be members of the Independent We Stand movement to support the local economy and businesses in your community!

We urge you to "buy local" every chance you get!

For more information, check out the Independent We Stand website and find out how YOU can become part of the movement to support YOUR community!

Thank You!
The Axe Women had a blast in 2017 performing in Florida, Connecticut, Pennsylvania, New York, New Hampshire, Michigan and Maine...at Local, County and State Agricultural Fairs, Open Houses, Professional Baseball games, Breweries, Corporate Summits and Woodsman's Shows..and now we're looking forward to next season!
Our 2018 Axe Women Show schedule is filling up, and we are so happy to be already booked and returning to Connecticut, Maine, Missouri, Michigan and New Hampshire!
To find out more about adding us to your event schedule, click below to contact us!

---

In June of 2017, the first ever STIHL U.S. Womens Timbersports Championship was held in Cherry Valley, New York.
38 of America's best lumberjills were selected to compete in this inaugural event. The camaraderie, strength, professionalism, skill and power displayed that weekend by ALL of these amazingly talented ladies serves as a testament that they are all part of the foundation of Women's timbersports.
​The Axe Women Loggers of Maine is proud to have had 7 ladies selected for this historical competition, and extend our sincerest congratulations to ALL who competed in the valley that weekend!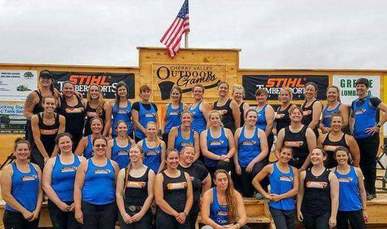 Thank you to our sponsors!